Microsoft Excel 2010 Dropdown mirrored Issue
Fix this Issue step by step:

Step 1:
PLEASE MAKE A BACKUP OF YOUR EXCEL DOCUMENT BEFORE CONTINUE!!!
Bitte zuerst eine Sicherungskopie der Excel-Datei erstellen.
Step 2:
Open the Excel-File with Excel 2010 or Excel 2007 and save it as filename.xlsx (if the file contains vba-code save as filename.xlsm)
Die Excel-Datei mit Excel 2010 oder Excel 2007 öffnen und als dateiname.xlsx speichern (falls die Datei VBA-Code enthält lautet der Dateiname 'dateiname.xlsm').
Step 3:
Exit Excel and rename the Excel-File to filename.xlsx.zip (now the Excel-file is a zip-archive)
Beenden Sie Excel und benennen Sie die Datei zu 'dateiname.xlsx.zip' um. (Nun ist die Excel-Datei ein ZIP-Archiv)
Step 4:
open the filename.xlsx.zip with any archiving-application like winrar and locate the folder \xl\drawings
öffnen Sie die Datei dateiname.xlsx.zip mit einem beliebigen ZIP-Archiver (zB: winrar) und gehen Sie in den Unterordner \xl\drawings
Step 5:
extract every vml-file like vmlDrawing1.vml to the desktop which contains dropdown-menus (every vml-file stands for a datasheet; that means if your excel-file has 3 datasheets then there are three vml-files).
entpacken Sie alle vml-Dateien (zB: vmlDrawing1.vml) die Dropdown Menüs enthalten auf den Desktop. (jede vml-Datei steht für ein Datenblatt im Exceldokument dh: 3 Datenblätter ergibt 3 vml-Dateien)
Step 6:
open every vml-file in windows text editor and remove every 'flip:y;' entry, using ctrl+h (find and replace). Be careful and replace the whole entry ' flip:y; ' that has exactly 7 characters. In some cases the entry could also be: ' flip:x y; '
öffnen Sie jede vml-Datei mit dem Windows-Editor und löschen Sie alle 'flip:y;' Einträge. Am schnellsten mit STRG-H (suchen und ersetzen). Achtung: bitte den vollständigen Wert entfernen ' flip:y; ' (dh es sind 7 Zeichen, bitte Strichpunkt am Ende nicht vergessen).
Step 7:
save vml-files and rearchiv (delete all vml-file from the archiv and copy the edited into the zip-archiv)
alle vml-Dateien sind gespeichert und können nun rearchiviert werden. (alle vml-Dateien aus dem zip-Archiv löschen und die geänderten vml-Dateien wieder ins zip-Archiv kopieren)
Step 8:
rename filename.xlsx.zip back to filename.xlsx - READY!
jetzt nur noch dateiname.xlsx.zip auf dateinamen.xlsx umbenennen. - Fertig!
Step 9:
READY!!


PLEASE DON'T FORGET TO RATE! THX
Picture View:
Step 2:



Step 3:

Step 4: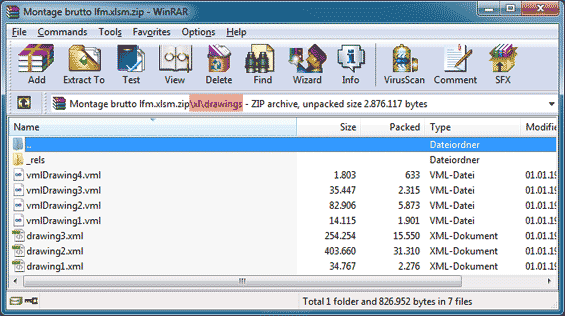 Step 5: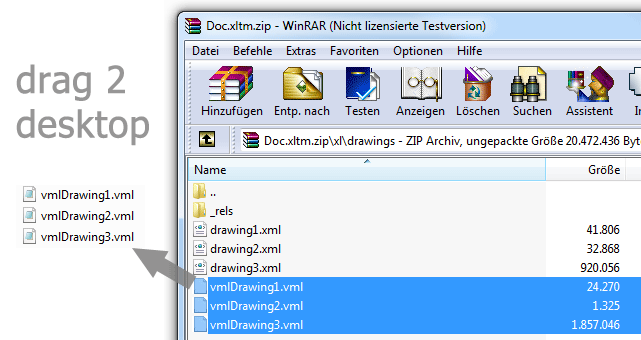 Step 6:


Step 7: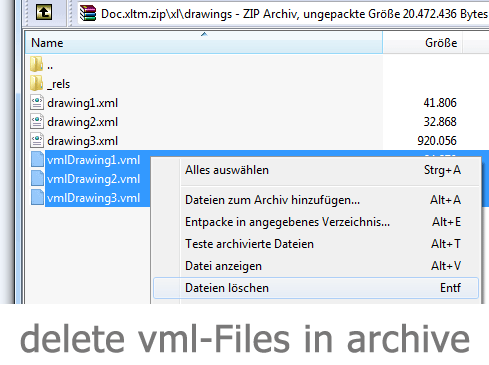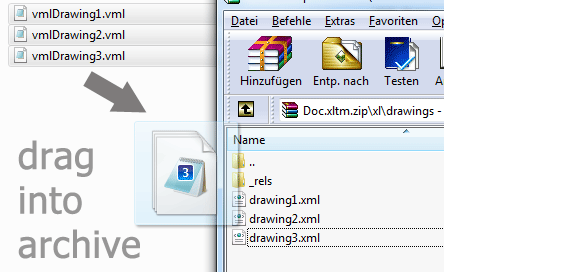 Step 8:

READY!!